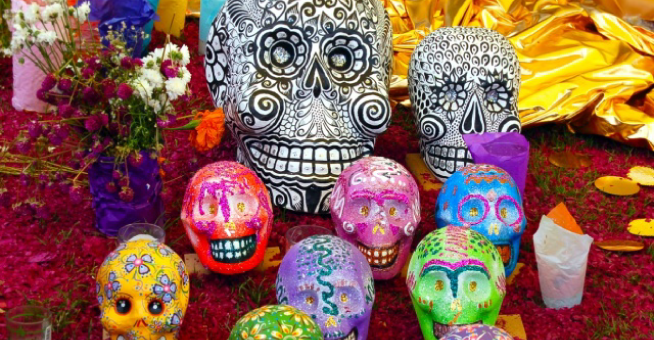 It is an unforgettable fiesta of vibrant colors, music, food and, yes – tequila. Día de los Muertos has been celebrated in various forms in Mexico for nearly 3,000 years. It is a time of honoring and communicating with departed loved ones, acknowledging the cycle of life and death, and playfully poking fun at Death. It is an occasion to remember those who have moved on, by visiting their graves with flowers, music, food and (what else?) tequila!
The details of these celebrations vary from region to region in Mexico, but all are colorful and fun family gatherings – usually at cemeteries. Some families build altars or small shrines in their homes. Public schools at all levels build altars with "ofrendas" (offerings), and government offices usually have at least one small altar, as this holiday is seen as an important symbol of Mexican heritage.
A common symbol of the holiday is the skull, which celebrants represent in masks, called "calacas". Sugar skulls are gifts that can be given to both the living and the dead. Other holiday foods include "pan de muerto", a sweet egg bread made in various shapes from plain rounds to skulls and rabbits, often decorated with white frosting to look like twisted bones.
Here in Houston, in conjunction with their 24th Annual Día de los Muertos celebration, Lawndale Art Center is offering a sugar skull making workshop. If you'd like to download the recipe and try making a sugar skull on your own. Molds are available for purchase at Casa Ramirez on 19th St. in the Heights. Then, bring your sugar skulls with you to Lawndale's Family Day Fiesta on Saturday November 5th honoring participating teachers and students whose works of art can be viewed in the Cavnar and Mezzanine Galleries. Enjoy refreshments and children's activities such as cutting papel picado and decorating sugar skulls, along with performances by Houston Grand Opera, Mixteco Ballet Folklorico and Paedarchy Puppets.