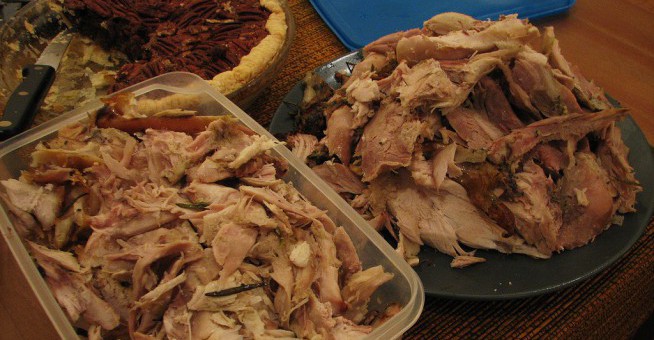 It happens every year. You have a great Thanksgiving feast with all the family, everyone has a great time and then they go home. Now you are saying to yourself, what in the world am I going to do with all this leftover turkey? You could make soup – maybe, or hot turkey sandwiches – again, or you could try something a little different this year. How about something with tequila?
We found this great recipe courtesy of Guy Fieri over on the Food Network for a
Tequila Turkey Fettuccini.  Give it a try and tell us what you think.
Prep Time: 20 min Inactive Prep Time: — Cook Time: 10 min
Level: Intermediate
Serves: 1 serving

Ingredients

1-ounce olive oil
1/4 red onion, cut into strips
1/2 tablespoon minced jalapeno
1 tablespoon minced garlic
5 ounces turkey breast, cooked, sliced
1-ounce IZKALI® Reposado Tequila
4 ounces heavy cream
1/2-ounce fresh lemon juice
1 tablespoon chopped cilantro leaves
9 ounces fettuccini pasta, cooked
2 tablespoons grated Parmesan
2 lime wedges, for garnish
2 sprigs cilantro, for garnish
2 tablespoons diced Roma tomato, for garnish
1 teaspoon freshly ground black pepper

Directions

In saute pan with high heat, add olive oil, onions, jalapeno and saute until translucent. Add garlic and continue to saute for 2 minutes. Add turkey, lightly mix ingredients, careful not to break turkey up to much.

Deglaze pan with tequila, pouring around the edge of the saute pan. Add cream, lemon juice and cilantro. Toss together, then add pasta, and toss ingredients while adding Parmesan cheese.

Nest pasta on plate, pour sauce over pasta. Lay sprigs of cilantro over top, sprinkle tomatoes on top, and crack pepper around the rim of the plate.